BUY * * SELL

Items currently available for sale or possible trade.
Updated Sept. 2005


OIL CANS


QUAKER STATE RACK W/15 MINT CANS

PENNZOIL RACK


CEN-PE-CO - SUPER REFINED MOTOR OIL

CEN-PE-CO SUPER RACING OIL



FALCON MOTOR OIL
MOBILOIL

MOBIL JET OIL II
L-JAY Tractors Motor Oil
SAFEWAY MOTOR OIL

CHEVRON CUSTOM MOTOR OIL
TEXACO AIRCRAFT ENGINE OIL


TEXACO 50-1 OUTBOARD MOTOR OIL

IRVING VELCO-MATIC A.T.F.

LEMANS SNOBIL RACING OIL


Full quart can (mint)

CASTROL GTX MOTOR OIL
MACMILLAN RING FREE OIL

SHELL - 50-1 SUPER OUTBOARD LUB. OIL

SHELL AEROSHELL TURBINE OIL 390
EXXON TURBO OIL

ESSOLUBE HDX PLUS


1 Litre oil can

---
GREASE CANS, HANDY OILERS, BANKS, ETC.


PENNSOIL 1# LUBRICANT

TEXACO NOVATEX 5# GREASE CAN
About as good as you can get.

ESSO "HAPPY" OILER

RAWLEIGH'S IDEAL OILER

ALLSTATE 1# LUBRICANT

CHARTER LUBRICANT
SHELL RETINAXA 1# GREASE

SHELL DARINA AAX 1# GREASE

AEROSHELL 1# GREASE

PYROIL HOUSEHOLD HANDY OILER

PHILLIPS 66 LIGHTER FLUID

FIRESTONE TUBE REPAIR KIT

HOLD TIGHT TUBE PATCH KIT

AllSTATE PREMIUM QUALITY 5# LUBRICANT

A full and near mint can of ALLSTATE oil produced by the Sears Roebuck Company.



GULF VALVETOP OIL
MISCELLANEOUS CANS ETC.




WHIZ QUIK-SEAL RADIATOR LEAK

4 oz. can

GITUM DUST CLOTH CAN

A must for every collection

QUAKER STATE H.P.A. ADDITIVE

ESSENTIALUBE CONDITIONER
HOMELITE MOTOR OIL

MOTO MASTER (Canadian Tire) Anti Freeze.

SIMONIZ AUTO POLISH
Miscellaneous items

SHELL SAWBLADE STYLE POCKET KNIFE.


This is a unique and very old Shell Oil of Sanfrancisco pocket knife.
TEXACO MATCBOOKS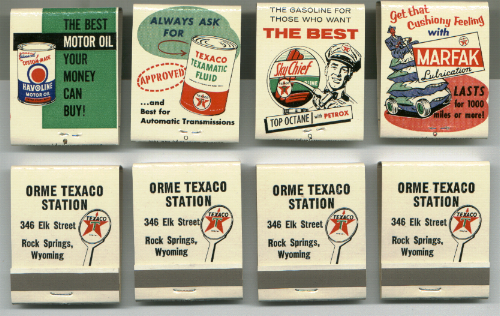 A mint unused set of 4 matchbooks all from the same dealer in Wyoming.


EARLY SHELL SAE-30 OIL CAN LID

Except for the scuffing at 4 oclock this 3" lid is in very decent condition.
It has the original waxed sealer that is also in very good condition

WHITE ROSE LID

NOS

FYR-FYTER Model "A" FIRE EXTINGUISHER.

I do not know the exact age of this fire extinguisher but I have learned that the company went out of business many years ago It is in extremely nice condition and comes with the original wall bracket to mount it.

TEXACO "Banjo style" 7" Wall Thermometer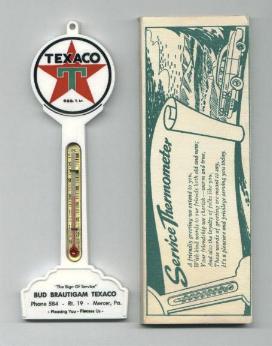 This classy NOS thermometer comes with the original cardboard sleeve which in itself is a collectors item.



TEXACO - BENNY GOODMAN 45 RPM EXTENDED PLAY L.P.

This recording (without the jacket) appears on page 207 of "A Tour with Texaco"

It catalogs at $145-$200

MILTON AIR HOSE WHIP
I looked a long time before I found a NOS attachment for my ECO air meter.
Decided then to buy several extras. I have two on hand.

CANADIAN PACIFIC AIRLINES LIGHTER: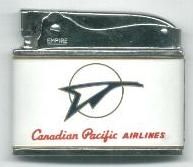 Extremely nice NOS lighter that features the original C.P.A. goose logo.

SHELL DOOR EASE

GOOD YEAR HEELS

ESSO SEWING PURSE


Mint NOS (never used)


ESSO TIGER
TAIL

Esso's famous "Put a tiger in your tank"

ACE 4 OZ. GASLINE ANTI FREEZE

RADIO OIL/GAS AVIATION GREASE
McCORMICK'S "BEE BRAND" TURMERIC

A very desireable spice can from McCormick & Co. of Baltimore, Houston, San Francisco.

GOODYEAR TIRE ASHTRAY
MOBILOIL CERAMIC SALT & PEPPER SHAKERS
KLONDIKE YUKON (mint - unused)
Personalized license plate:

1956 CALIFORNIA PLATE
CHEVROLET USA-1 PLATE

CHEVROLET USA -1 PLATE
SPIRIT OF '76 PLATE

USA BICENTENNIAL 200 YEARS PLATE


OTHER LICENSE PLATES AVAILABLE


CANADIAN NATIONAL RLYS. CUFFLINKS.


A set of beautiful cufflinks originally used as presentation gift to VIP's


U.S. & Canadian license plates available



---
Signs
QUAKER STATE TOMBSTONE SIGN.

Nice original sign (Canadian version)

COCA-COLA SIGN


This is a nice 13.5" square sign. It was hand painted by an artist in Washington State.

---
Sign My Guestbook

View My Guestbook

CLICK BELOW TO: