CLASSIC CHEVY
'55 -'56 -'57

"PHOTO GALLERY"

My favourite Chevy sign.



Here are some additional
pictures of my current classics.
I currently own three of the four Classic Chevies shown below. The 1955
210 sedan was sold when I purchased my '55 Bel Air convertible in 1987.

'55 Model 210 two door sedan


'57 Bel Air Sedan
(27,000 original miles)


'56 Bel Air Sport Coupe


'55 Bel Air Convertible
Note: See Part 1. "Classic Chevy Collection" for stories of each car

In June 1986 I was asked by Palmer Jarvis & Associates to participate in the special 60th
Anniversary television commercials for the Carter G.M motor dealership. The filming of these
commercials took place in the Winnipeg studios of CKY television. The pictures shown below
were taken during the filming of these commercials.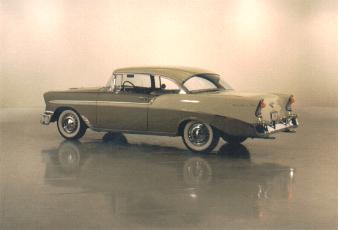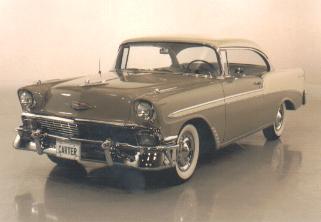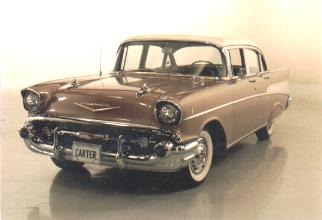 The year 2000 marks the 25th anniversary of my association with the mid 1950's Classic
Chevrolets. I have been fortunate during this time to have travelled extensively throughout
Canada and United States and have, as a result, viewed what I believe are some of the finest
collector cars in existence. The tri five Chevies continue to be my favorite.

(To be continued)
Sign My Guestbook

View My Guestbook
CLICK BELOW FOR: