"DUSKY ROSE - 1957"
1957 Bel Air 4 door sedan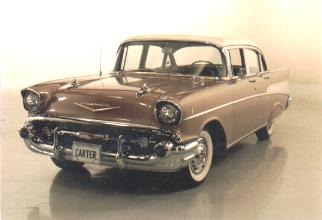 The following article appeared in the April, 1998 issue of "Bow Times"

This award winning Canadian classic is a totally stock vehicle that still houses
the original spare tire. It has 265-V8 and is equipped with many factory
accessories. The original black and silver interior is in flawless condition.
The "Dusky Rose" color is, I believe, very rare as this particular color was
only used by General Motors of Canada. It has a Dover White top. We
have owned this remarkable Chevy for 17 years and with only 27,000 original
miles it promises to be a winner for many years to come. This picture was
taken during the filming of a General Motors television commercial.
In the twenty one years that I have been associated with the mid-fifties
Chevrolets, I have never seen or heard of another '57 Chev that is painted in
this original color combination. Most American collectors are unaware that
the "Dusky Rose" color is "Canadian" and they confuse it with the "Canyon
Coral" and "India Ivory" combination that was used in the United States.
I have an original copy of the 1957 sales brouchure that was produced in
Canada (D-4174-9/56) and it features a full-page picture of a "Dusky Rose"
Bel Air convertible. The same brouchure produced in the United States
features a convertible painted in either "Canyon Coral" or "Colonial Cream".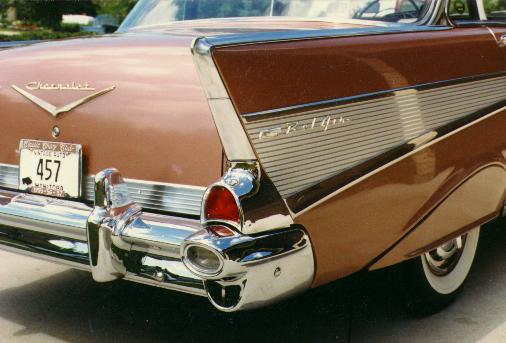 Editor's Note: Bud is very interested in hearing from anyone who has, or
knows someone who has, a true "Dusky Rose" 1957. Any information about
one of these would be appreciated. He thanks you in advance.



Sign My Guestbook

View My Guestbook

CLICK BELOW TO: